Warning!
There was an error loading some of the images for this post.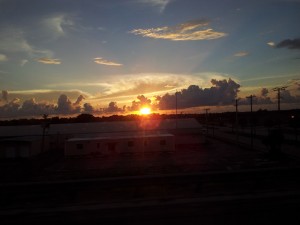 Last Saturday on 29th September I woke up bright and early for the excitement of a trip to Universal Studios. The mood was slightly dampened by the fact I had to wake up at 5am with only 3 – 4 hours sleep and then sit on a coach for 4 hours to get to Orlando – who would have thought Florida is so big! There wasn't really anything interesting to say about the journey with the majority of people sleeping but I randomly woke up to the beautiful scene to the right; I guess it's proof that I was awake so early.
We finally arrived at Universal Studios around 10:30am, obviously by this point everyone had sprung into life and began applying their days supply of sun cream! Before entering the park there is strip of restaurants, music, a cinema and so on; all exciting stuff for first impressions and particularly busy considering most tourists should be in school! Oh! One of the funny things that comes to mind is that when we were entering the park we had to get our finger prints taken as well as the ticket checked – the strange woman also asked if I was a builder, not really sure how this fit into the picture…?
Anyhow we had gained access to one of the two parks: "Islands of Adventure" – this being the park with the roller coaster rides, and the other having more cinematic related things. So we ran with excitement to the first ride we saw being one based on "The Hulk" in the hope it would wake us up – it had a number of loop the loops, cork screws and what not; but that wasn't enough! So we were eagerly lead to what was apparently our next ride, this one being the tower drops where it throws you in the air and then you slowly sink back down. Having not been on one of these before I was rather nervous before being launched out of the seat and receiving a beautiful view over what looked like an industrial park! 😉
There were a number of other theme related rides and areas such as Jurassic Park which boasted a boat 'tour' through the jungle with random dinosaurs squirting water at you before heading into the main building where T-Rex lay. The boat then made a rapid detour throwing us down a slide to safety!! Whilst on the subject of water we thought it be appropriate to go on the log flume, probably turning out to be one of the best rides there, but we literally came off like drowned rats – good job it was 35 degrees!
Other notable rides included an entire area dedicated to Harry Potter with sweet shops, places to eat and even snow on the buildings in the Florida sun ;). The Harry Potter ride was probably the most enjoyable by portraying travel on the broomstick through Hogwarts with television screens guiding you. There was also a Superman ride that seemed to date back to the original comics, a similar experience but in 3D this time; shame I didn't really follow the story line.
Overall a hugely enjoyable trip. We finished the day at Universal by paying a trip to Buba Gump's shrimp restaurant on the strip. It was a nice place, with the waitresses quizzing us about the film whilst we waited for food and the neat idea on signs on the table signifying when you want a waitress to stop.
We arrived back on campus around midnight which means roughly 20 hours of being awake! A few photos of the day are shown below: