Warning!
There was an error loading some of the images for this post.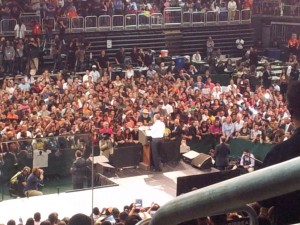 Today, 11th October 2012, Obama paid a second visit to the University of Miami – an exciting opportunity! Two days prior to the event I sat in the queue for a ticket for over two hours with a strong will that I was sure going to see him this time round after not getting the opportunity last time. After those 2 hours in the baking sun I finally received my ticket and began the wait to today.
The queues on campus stretched over 0.5 miles according to my calculations on Google Maps, the queue length seemed to be growing exponentially. Funnily enough we were stood in the same place for over 1 hour 30minutes with people getting tired and frustrated in the sun – as you can imagine. Anyhow after a long anticipated wait and some bad tactics we eventually got in as one of the last groups before the Bank United center was full – strange considering they gave everyone tickets!?! Everyone was subjected to airport like security checks on entry to the building and the inside was lined with police officers and secret service.
As we took our seats the Florida State Senator (or at least I think so) was saying a few words before leaving the stage and music was playing whilst the special front row standing guests filled the floor. After a long anticipated wait, secret service came running out in the numbers setting up the stage and shortly after out comes Barack Obama – the atmosphere and excitement was amazing, with lots of pictures being taken. During his speech he spoke about his campaign, whilst cracking a few jokes about Mitt Romney. I admit he made some good points and highlighted the difference between their two campaigns.
An exciting time for America that I was glad to be a part of, soon we'll see the outcome! Whilst exiting a did get a quick glimpse of the presidential car, with the flags on the front and black glass sadly by the time I was outside it was hidden from view 🙁