Warning!
There was an error loading some of the images for this post.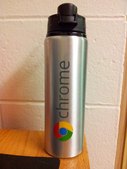 Quick side note before I get into the story of Key West. Whilst watching the election projection results on Tuesday night (06/11/2012) Google Student Ambassador's were running an American Trivia quiz with prizes. Funnily enough I correctly answered one of the questions and won a Google water bottle! Shame really I would have really liked those Google shoes they had on show!!
Key West
On Saturday 27th of October me and a friend set off down to Key West for Fantasy Fest (http://www.fantasyfest.com/). A quick background on Fantasy Fest would include everyone, of varying age groups, dressing up for Halloween and  participating in a large parade of various floats celebrating Halloween. I might admit it was slightly weird with middle age people half naked and such but nevertheless a fun experience; after all it wasn't all about the Festival it was an opportunity to see the Keys that stretch southward from Miami.
Anyhow the day started with an early wake up call at 8am, telling me to get ready – not best pleased in the early hours! We set off southbound towards the keys where there is literally one road in and the same way out with not too many toilet stops. The view was amazing and the journey took about 4 hours, the sea was literally meters away from the road at times. On route we stopped for lunch, or more a toilet stop but required lunch to use the toilet and numerous picture stops along the way – a truly beautiful place to live. The journey flew by, somehow we managed to miss the 7 mile bridge we're still puzzled how we missed that HUGE construction. Once arriving in Key West we pimped ourselves out with some Mexican hats and called it our Halloween costumes; I even went to the effort of learning some Spanish 😉
The party started pretty early, when I say early I mean 1PM when we watched a movie and got pumped for the excitement ahead. Around 5-6PM (anyone would of thought we were already starting to feel tired) we head out to the 90 mile mark which signifies 90 miles to Cuba – we have a nice picture before the mess of Fantasy Fest kicked in. I must also mention that hurricane Sandy was beginning to make it's mark despite swinging clear of Florida and whilst taking the picture waves were splashing up behind us; needless to say I never saw a beach whilst on or traveling through the keys, with the water so high!
With the Festival beginning to take shape we found ourselves a good place to park for a few hours and watched the floats go by. Each float having it's own personal touch and music collection, some of them were much weirder than others as you might notice from any pictures you see. Whilst the parade went past we collected probably over 50 beaded necklaces between us that they were throwing into the crowd. Towards the end of the parade the crowd were allowed to follow suit down the road, we lead the way with our Mexican hats for a good mile I would say (to the other side of the island)!
Anyhow after a hugely tiring day we got some sleep and headed back out early morning to set off back towards Miami; a wise decision considering the amount of people and there only being one way out of the island so it was generally a smooth but tiring journey home. On the way we stopped at an American Diner called iHop for breakfast where we had Waffles – quite a popular place really! We also made sure we were more alert and noticed the 7 mile bridge this time, where we made a quick stop to walk down the old bridge which was closed off only for walkers – a really beautiful place just looking out to the sea "Oh a sailors life for me!"
An extremely tiring weekend but probably one of the best since I've been here, and my first road trip in the US. Once back home I collapsed but needless to say I would do it again in a heartbeat!
This weekend I'm heading back to one of the Keys for Kayaking in the mangrove canals, lets hope the Alligators aren't out to play… Stay tuned for an article on this!